Exhibitors
If you would like to secure a space in the exhibit hall, please contact Robert Putnam at robert.putnam@verizon.net
Brooks Ltd - Melanie Brooks
www.brooksltdonline.com/
At Brooks, Ltd., our goal is to collaborate with you, the piano technician, to create, service, and restore instruments to their finest. We are dedicated to providing constant quality and innovation in our specialized products, and accurate, trustworthy service from well-trained specialists who are here to support you. In appreciation of music and the use and beauty of the piano, we aim to gain your full confidence in the products you receive and the personalized, honest service we provide.
Three generations of service to the piano industry.
.
(800) 326 2440

CyberTuner - Dean and Nate Reyburn
www.cybertuner.com
Reyburn CyberTuner, the pro piano technician's gold standard tuning software tool for over 15 years. Over 3 years in development for iOS including intensive testing by master piano technicians around the world!
New for iRCT! Concert Tune mode combines the best of Fine Tune and Smart Tune.
Extraordinarily accurate and fast pitch correction with iRCT's patented Smart Tune and Pitch Raise modes.
iRCT creates aural-quality tunings by directly matching sampled partials, just as concert aural tuners do.
iRCT accommodates all experience levels.
iRCT automatically calibrates itself to A 440.00
1-888-SOFT-440 or 1-888-763-8440
Dampp Chaser - Kelly Hollifield
http://www.pianolifesaver.com/
The Piano Life Saver is a piano humidity control system. As a fundamental component of complete piano care, it protects your piano from the undesirable effects of extreme or fluctuating humidity levels.

Faulk Piano Service - Charles Faulk, RPT
http://www.faulkpiano.com/
Charles Faulk has been making piano tuning levers since 1996. Over the years these tuning hammers have evolved from titanium based tools to carbon fiber and metal (titanium and aluminum)/carbon fiber products. From the point of inception, his goal has been to produce levers that are lightweight, well balanced, and aesthetically pleasing to the eye. He has also redesigned the tuning head to eliminate the point loading problems of conventional tuning hammers caused by the narrowing of the tuning shaft at the threaded end.

Gazelle - Tim Barnes
https://growwithgazelle.com/
Gazelle is an all-in-one business management platform for piano technicians. Gazelle helps piano service professionals simplify business tasks, save time, wow customers, and grow their business with ease.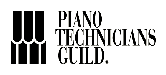 Piano Technicians Guild - Ricki Klos, RVP
http://www.ptg.org
4444 Forest Avenue
Kansas City, KS 66106
(913) 432-9975
Technician Site: http://www.my.ptg.org

Piano Technicians Guild Foundation - Fred Sturm
http://my.ptg.org/foundation/home
4444 Forest Avenue
Kansas City, KS 66106
(913) 432-9975
Technician Site: http://www.my.ptg.org
Reyburn Pianoworks - Nate Reyburn
www.reyburnpianoworks.com
Precision retrofit piano keyboards and actions for the rebuilding trade. We build or rebuild Steinway, Renner and WNG stacks, keyframes, we build everything that goes into a grand action compartment!